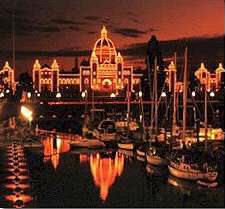 Victoria BC at night is wonderful
Victoria BC is just wonderful. Spring-Summer is a magical place to visit. Beautiful and diverse, yet small and cozy. Nice place to visit. Wouldn't want to live there...toooooo cold in Winter! The idea of having to put on a jacket and heavy shoes to go outside to get something out of the car is simply nuts.
Some places I've vacationed in the past few years:

Jamaica, Several trips to the Virgin Islands, Costa Rica, hanging on to nurse sharks taking rides in Belize, The San Juan Islands, I love Victoria BC, All over Florida and the Keys, The Northeast during fall foliage, Culebra, a small island off of Puerto Rico, Rome, backpacked/Eu-railed for two weeks around Europe, the Oregon coast, Portland and in between, Twice sailed for 16 days with friends in the BVI, camping with friends in the Sierras. Check out all the places I've been on my "places I've been lately" page.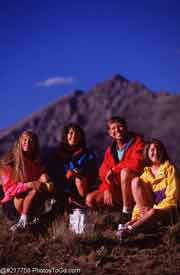 I just pulled this off the net and I don't know any of these people. They are all smiling because they haven't gone to sleep on the hard rocks for the night. In the morning, they will be looking a bit more haggared. I love being outdoors and watching the sunset PAST when everyone else thinks the sun has left it's image. Twilight is one of the most spectacular times we have on Earth. Totally underappreciated because it's so short in duration. Yet that's when the best colors come out in the sky.
parrot fish in the caribbean
I love the colors of these fish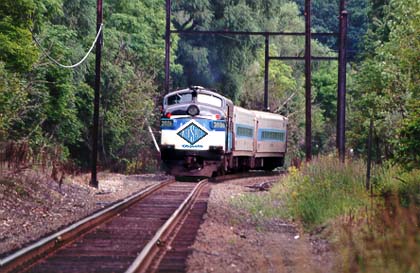 I love to travel. Trains are great because they are like giant moving movie screens as I look out the window. Eurail is the best!
There are few things better than a tropical sunset....